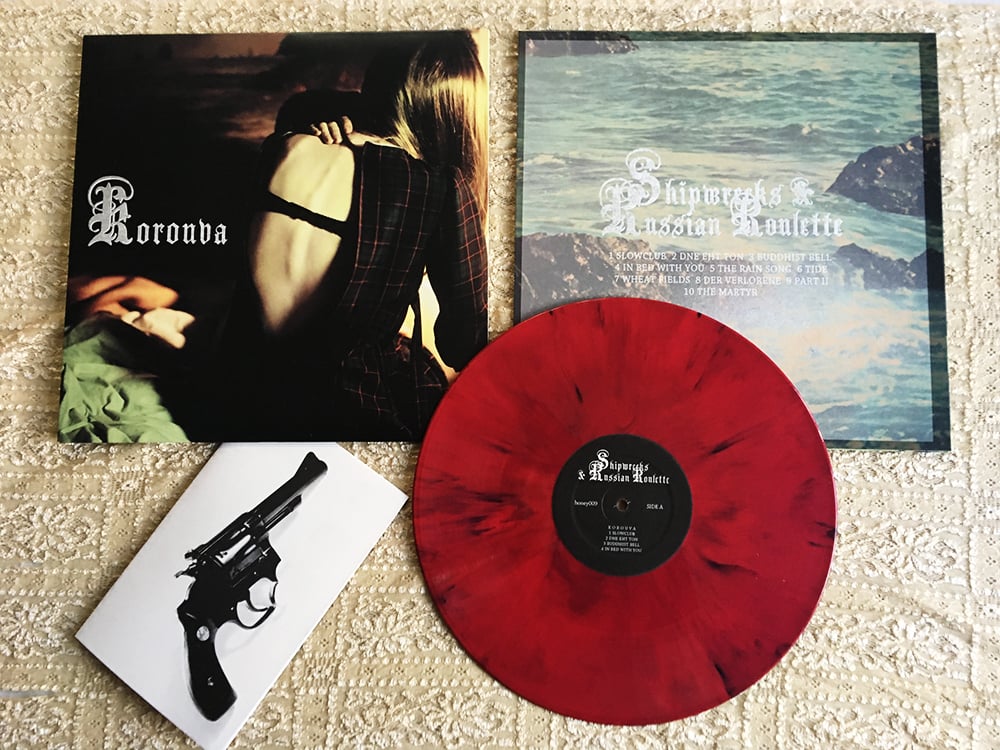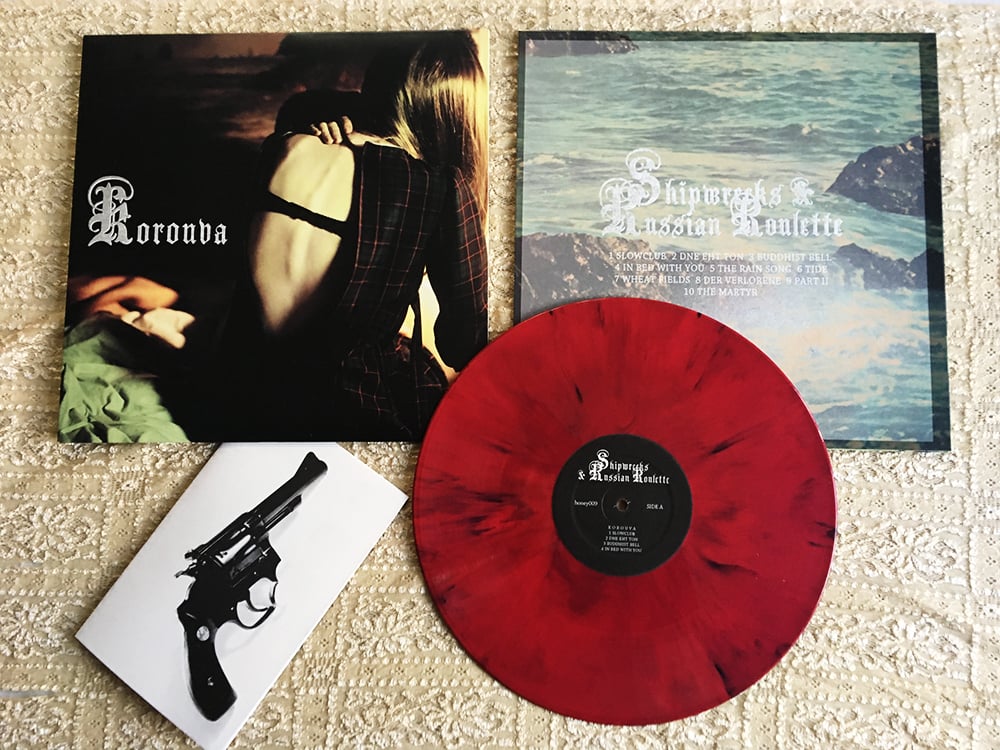 Shipwrecks & Russian Roulette Vinyl
$25.00 / Sold Out
KOROUVA-Shipwrecks & Russian Roulette (2007) (Khrysanthoney), VINYL

SOLD OUT! SOLD OUT! SOLD OUT!
EMAIL FOR DETAILS
Review from Aquarius Records:
"The first new release on Khrysanthoney proper comes in the form of Korouva's Shipwrecks & Russian Roulette, a reissue of a long out of print CD, available on vinyl for the first time and part of a three LP trilogy.
"Shipwrecks is probably best known as one of the records 'stolen' by black metal duo Velvet Cacoon…even then thinking it was in fact Velvet Cacoon, we were struck by what a darkly lovely and hauntingly creepy record Shipwrecks really is. Folks expecting black buzz or blown out shoegaze will likely be disappointed as this is all brooding balladry, haunting washed out piano, the sound of rain and plaintive vocal croons.
"Korouva's (Miranda Lehman) voice is deep and sultry, reminding us at time of Fiona Apple actually, but much more abstract and minimal, often cooing mumbly, wordlessly. Those vocals drift above a slow shifting backdrop of creaking ambience, witchy-wheezing harmonica, tinkling chimes, soft swirls of subtle, barely there effects. The sound is sometimes so distorted it becomes almost avant-garde, but at other times so hushed as to be ghostly, the vibe washed out and woozy, faded and dreamily murky.
"Shipwrecks is a collection of minimal abstract torch songs, moody, melancholic and mesmerizing. While listening, it's not hard to imagine wandering through some strange city, the rain pouring down, looking for someplace to duck out of the downpour only to find some mysterious dimly lit dive and inside are a strange collection of shapes hunched over their drinks lit only by the flicker of candlelight. In the corner, sits an old piano with a shadowy shape at the keyboard…the woman at the piano providing a mysterious, musical balm for the rain soaked dispossessed; each song a haunting threnody, an aching lament that speaks to the collective misery, sadness and hopelessness of the clientele, all drowning their sorrows, waiting for the end.
"So gorgeous and darkly, depressively dreamy, fans of folks like Chelsea Wolfe and Zola Jesus should check this out too. Korouva's sound is laced with a gloomy goth vibe that seeps into every ghostly note."
Packaged in a thick full color jacket, with an eight page lyric booklet and a Khrysanthoney insert. 
COLORED VINYL IS SOLD OUT. STANDARD VINYL ONLY.
DUE TO HIGH VOLUME VINYL SHIPS OUT IN 2-3 WEEKS